Game developer and founder of Awesome Tuts
Over 300,000 people watch my videos to learn how to code and make

games. My students have created and published their own games on Steam, Google and Apple app store.




A lot of them got jobs in the game development industry and even made a huge success with their apps like getting 6 million downloads and being featured by Apple.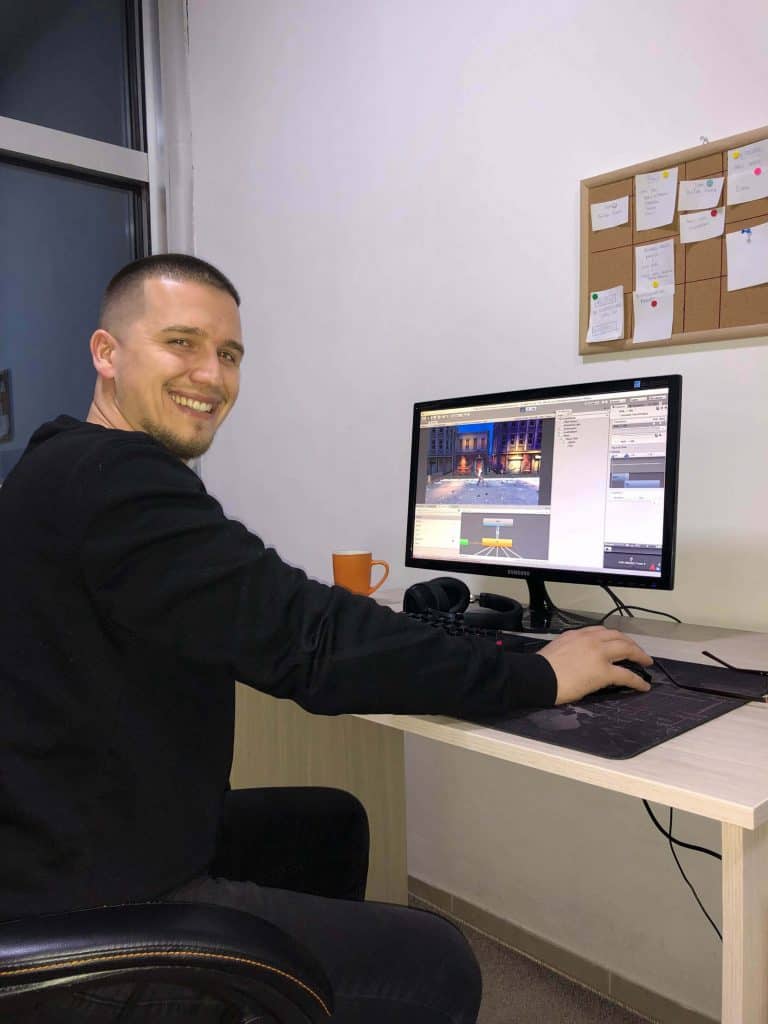 I take a different approach than most "experts" out there
I don't believe in "make your player move and jump" tutorials. Instead, I create complete games from start to finish, and I explain every step along the way not leaving anything unclear.
I prohibit people who are not 100% committed to join my premium courses. I work closely with my premium students, and they are the ones who get the best results.
I give away 98% of my material free. And I aim to make that free material better than anyone else's paid stuff.
I know you have a lot of choices in which tutorials you watch, so I know I have to earn your trust with every post I make. If you're curious, here's a little bit about me
I got inspired to learn game development when I was a kid. Back in the day, I used to play games on arcade machines. My favorite game was King Of Dragons. I still remember how that game was able to hook me up for hours. I would play without even breathing.
Any pocket money that my parents would give me I would spend on coins so that I can play my favorite game, even my school lunch money was spent on coins. I was really happy, and I wanted to make other kids happy when they play my games. That's how my desire for game development was born.
But I thought that to learn how to make games you need be very good in math (totally not true), plus at that time I was a little kid, I had no idea how would I learn to make games, I didn't even have a computer back then. So my journey as a game developer started in my twenties.
I found some books and searched for tutorials on YouTube, and I hoped that would guide me in the right direction.
Since I didn't have anyone to ask for help, for some time I was wandering between these learning materials and following the steps they were giving me. 
After doing that for 6 months, I was confident that I could create my first small game. So I started a new project but quickly got disappointed since I had no idea what I was supposed to do.
At first, I felt like I know everything, but when I sat down on the computer, the code just wouldn't come out. I felt like all the effort that I put in for the past 6 months was in vain. 
Ever had the same feeling?
But I was dedicated to making it work, so I kept moving forward. And after a couple of more months of hard work things finally started to click and I was able to understand how game development works.
During that long, painful and frustrating process I realized that if I had a tutorial that showed me step-by-step how to create a game from scratch to finish, it would be much easier to learn and not to mention it would take me much less time to learn as well.
But the problem was nobody was showing a step-by-step way how to create games from scratch. 
That's when I decided to start creating tutorials to help beginners, who are in the same situation where I was, learn how to make games in the shortest and efficient way possible, and that's how Awesome Tuts was born.
I take a practical approach in teaching where I create complete tutorials that show you how to build games from an empty project to a finished game with main menus, enemies, collectible items, even game managers that handle the communication between your game elements.
Not to mention that I explain every single line of code and I even give examples of how you can achieve the same thing using different approaches.
And one thing that I am proud of is that I am the ONLY YouTuber who creates tutorials based on complicated games like 3D FPS survival game, 3D fight game and more amazing games that I plan to create and publish on my YouTube channel.
I GIVE AWAY 98% OF MY CONTENT FOR FREE MY GOAL IS TO MAKE IT BETTER THAN MOST PAID PRODUCTS
Right now, I want to prove that my tutorials can change your life. Sign up for my FREE newsletter—sent every few days to over 20,000+ people—and you'll receive:
– Tips and tricks on how to learn game development effectively
– Guidelines on how to get a job in the game development industry
– Advise on how to launch your game successfully